The Clarksville-Montgomery County School System (Tennessee, USA) offers an innovative "Grow Your Own" pathway for helping residents obtain certification and become classroom teachers within the school district. Hear from Mr. Chris Dial, Teacher Residency Liaison, and Mr. Jermaine Purdie, an 8th Grade ELA Teacher Resident. Explore the keys to opening doors to the teaching profession and providing the support needed as new teachers enter the classroom.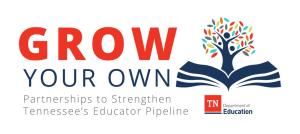 Show Notes:
CMCSS Teacher Residency Programs
The Teacher Residency Program at Clarksville-Montgomery County School System (CMCSS) provides a pathway to teaching for those interested in a non-traditional approach to a degree or certification. Teacher Residents are educational assistants who contribute to excellence by providing instructional and non-instructional support to students while learning best practices for a career in education from an outstanding CMCSS educator.
Lipscomb University Offerings for CMCSS
Lipscomb University's College of Education, with one of the top teacher preparation programs in Tennessee and in the nation, is launching two new innovative teacher apprenticeship program models to create a pipeline of teachers to fill workforce needs across the state. Lipscomb has established its first degreed teacher candidate apprenticeship program with the Clarksville-Montgomery County School System (CMCSS). This partnership includes the first master's and certification teacher apprenticeship programs in Tennessee and one of the first of its kind in the nation. The program is a collaboration with the Tennessee Department of Education (TDOE) and the U.S. Department of Labor to remove financial barriers for those who have undergraduate degrees but are seeking teacher licensure, which will further the state's and nation's efforts to extend the teacher pipeline and address teacher shortages.
Quotes:
"The very obvious need that's being filled by the design of the 'Grow Your Own' program is to staff our classrooms with highly qualified people. We're experiencing the same shortage in Clarksville-Montgomery County schools that schools are likewise facing throughout the nation. Beyond that, though, the design of the program is inclusive of diversifying our teaching workforce. Students are not only being taught by people who look like them and might have backgrounds that are relative to the student background, they're also being served by people who have incredibly diverse perspectives and work histories. I think I could sum up the need in two words. The phrase would be 'diverse staffing.'"
—Mr. Chris Dial
"I've got a great school and a great mentor teacher. The only challenge is just getting over my nervousness. My mentor teacher, she pushes me to get in front of class. And sometimes I might get a little nervous and not want to do it. But as I continue, that fades away. One of my biggest rewards is getting out in front of a classroom and, while I'm teaching a class, I just stop talking and I'm looking at the class and they are eager to hear what I'm about to say next. They were paying attention and I was actually influencing them. It's an awesome feeling."
—Mr. Jermaine Purdie
Credits:
Producer & Host: Karen Marklein
Engineer & Editor: Forrest Doddington