The Clarksville-Montgomery County School System (Tennessee, USA) offers an innovative "Grow Your Own" pathway for helping residents obtain certification and become classroom teachers within the school district. Hear from Ms. Lisa Baker, Director of Federal Programs in Clarksville-Montgomery, and Dr. Vanessa Garcia, Senior Director of Partnerships at Lipscomb University, about design of these innovations in the area of teacher certification and support. Teaching residents are hired as education assistants while they complete university coursework are are mentored by exemplary teachers to build their competencies. Teaching residents are ensured a teaching positions in the Clarksville-Montgomery County School System.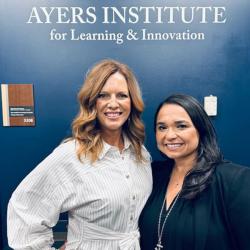 Show Notes:
CMCSS Teacher Residency Programs
The Teacher Residency Program at Clarksville-Montgomery County School System (CMCSS) provides a pathway to teaching for those interested in a non-traditional approach to a degree or certification. Teacher Residents are educational assistants who contribute to excellence by providing instructional and non-instructional support to students while learning best practices for a career in education from an outstanding CMCSS educator.
Lipscomb University Offerings for CMCSS
Lipscomb University's College of Education, with one of the top teacher preparation programs in Tennessee and in the nation, is launching two new innovative teacher apprenticeship program models to create a pipeline of teachers to fill workforce needs across the state. Lipscomb has established its first degreed teacher candidate apprenticeship program with the Clarksville-Montgomery County School System (CMCSS). This partnership includes the first master's and certification teacher apprenticeship programs in Tennessee and one of the first of its kind in the nation. The program is a collaboration with the Tennessee Department of Education (TDOE) and the U.S. Department of Labor to remove financial barriers for those who have undergraduate degrees but are seeking teacher licensure, which will further the state's and nation's efforts to extend the teacher pipeline and address teacher shortages.
Quotes:
"We hear often, "There's a teacher shortage." And I don't know that I necessarily buy into that. I don't know that there's really a teacher shortage. I think there are lots of barriers that prohibit people from becoming teachers. And I think this work really, truly does help remove those barriers so that we have great candidates who are ready– day one– to lead a class of children."
—Dr. Vanessa Garcia
"Our district had about 150 open positions at the beginning of the year. Nearly 60 of those were filled with residents. So that's exciting because we are meeting a need we hope to do more to meet that need. It's fun to have the opportunity to go in and visit the schools and see [the teacher residents] in action and see how excited those residents are. How excited their students are; and as well as their mentors. And then going back and seeing them as teachers of record now."
—Ms. Lisa Baker
Credits:
Producer & Host: Karen Marklein
Engineer & Editor: Forrest Doddington