Each "My Why" episode uncovers the journey of one educator: a teacher or leader who has chosen to devote his or her life to the education profession. Each story is different, yet each is an exploration of motivation, purpose, and hope.
In this episode, we hear from Dr. Candice McQueen from Nashville, Tennessee.  Dr. Candice McQueen became Lipscomb University's 18th president in September of 2021. She has more than 20 years' experience in education spanning classroom teaching, higher education leadership, state government and nonprofit sectors.  From 2008 through 2014 she served as Dean of Lipscomb University's College of Education.  From January 2015 to January 2019, Dr. McQueen served as Tennessee Commissioner of Education in the Bill Haslam administration.  She has also served as the CEO of the National Institute of Excellence in Teaching (NIET) and is a co-founder of the Ayers Institute for Learning & Innovation.
"Whatever my title is, I teach."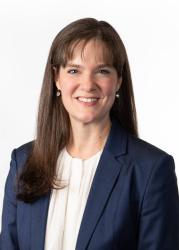 Show Notes:
Announcement of Dr. Candice McQueen as the 18th President of Lipscomb University.
First-year review and vision for Lipscomb University President Candice McQueen.
Quotes:
"Teaching is ministry. At the end of the day, what a minister does is they determine where you are and what you need. They help you grow and they bring their faith into that. And that's what a teacher does! They find out where you are and where you need to grow. And Christian educators bring their faith into those conversations. I think the other fruit of the spirit, "love and hope and peace and patience" and all the things: we would care that an educator would have those. Those are things that you take on to be a better minister, and I think those are the same characteristics that a teacher has."
—Dr. Candice McQueen
"I want students to leave knowing that someone cared about them and woke up every day dreaming about, thinking about, planning for, being very intentional and serious about making sure they have what they need spiritually, academically, and certainly socially and emotionally. We care so much about that here at Lipscomb. There are people, me being one of them, that truly are in their corner every day and that should give them, I think, the confidence to be really successful with whatever career path they choose. "
—Dr. Candice McQueen
6-word Memoir:
"Whatever my title is, I teach." —Dr. Candice McQueen
Credits:
Producer: Karen Marklein
Host: Rachael Milligan
Engineer & Editor: Forrest Doddington