Each "My Why" episode uncovers the journey of one educator: a teacher or leader who has chosen to devote his or her life to the education profession. Each story is different, yet each is an exploration of motivation, purpose, and hope.
In this episode, we hear from Ms. Morgan Rankin from Johnson City, Tennessee. Morgan has 16 years of experience as an educator, has taught in both Canada and the United States, and in August 2021 was named the Tennessee Teacher of the Year for 2021-22. She is also one of the founders of the Blue Ridge Literacy Project that hosts an annual conference and focuses on advancing the level of literacy instruction within the areas of Northeast Tennessee, Southwest Virginia and Western North Carolina.
"Teaching is shaping what might be."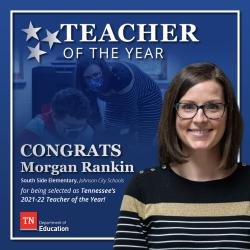 Show Notes:
Tennessee Teacher of the Year 2022 announcement from the Tennessee Department of Education.
The Blue Ridge Literacy Project - Empowering Learners Through Literacy
Book recommendations:
"Bold School: Old School Wisdom + New School Technologies = Blended Learning That Works" by Weston Keischnick
"Breaking Bold: Dare to Defy the Tyranny of Trends and Live the Relationship Habits of a Master Educator" by Weston & Molly Keischnick
Quotes:
Ultimately I teach because this is my way to make a difference in the world. This is my way to make life better. And I do that because you can look at these little people and think, "I see amazing things in you. You're going to be a wonderful parent, you're going to be a wonderful employee, you're going to be a wonderful contributor to our community and you're going to help change the world." And that's what teaching is: seeing that bigger picture for your students and encouraging that.
--Morgan Rankin
I hope that they remember that I pushed them to learn. But that I cared about them deeply. I knew in that moment, this isn't just teaching second grade. This is helping to form adults; citizens. I hope they remember that I saw something IN them and something FOR them that was great. And that I knew they could do it.
—Morgan Rankin
6-word Memoir:
"Teaching is shaping what might be." —Morgan Rankin
Credits:
Producer: Karen Marklein
Host: Rachael Milligan
Engineer & Editor: Forrest Doddington