Each "My Why" episode uncovers the journey of one educator: a teacher or leader who has chosen to devote his or her life to the education profession. Each story is different, yet each is an exploration of motivation, purpose, and hope.
In this episode, we hear from Mrs. Cicely Woodard, a middle school Math teacher and the 2018 Tennessee Teacher of the Year. Mrs. Woodard was a member of the inaugural National Public Education Foundation Teacher Cabinet, the Tennessee Teacher Advisory Council, the Tennessee Assessment Task Force, and coordinator of the Tennessee Educator Fellowship with the State Collaborative on Reforming Education (SCORE).
"To prepare students for their futures."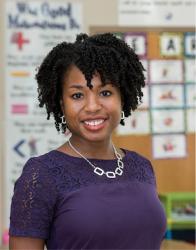 Show Notes:
A professional learning guide document is available for this podcast episode.  Use it for individually or with your professional learning community.
Credits:
Producer & Host - Rachael Milligan
Director - Julia Osteen
Engineer & Editor - Forrest Doddington