Each "My Why" episode uncovers the journey of one educator: a teacher or leader who has chosen to devote his or her life to the education profession. Each story is different, yet each is an exploration of motivation, purpose, and hope.
In this episode, we hear from Dr. Jarred Amato, a high school English teacher and founder of the Project LIT Community. Dr. Amato, a two-time MNPS Blue Ribbon teacher, has served in several teacher-leadership roles over the past nine years in the classroom. He is an avid reader, writer, and speaker who enjoys working and connecting with fellow educators to create a vibrant literacy culture in our schools and communities.
"Empowering students as readers and leaders."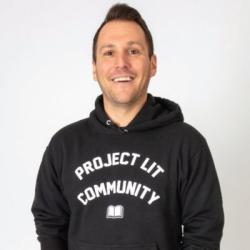 Show Notes:
A professional learning guide document is available for this podcast episode.  Use it for individually or with your professional learning community.
Credits:
Producer & Host - Rachael Milligan
Director - Julia Osteen
Engineer & Editor - Forrest Doddington